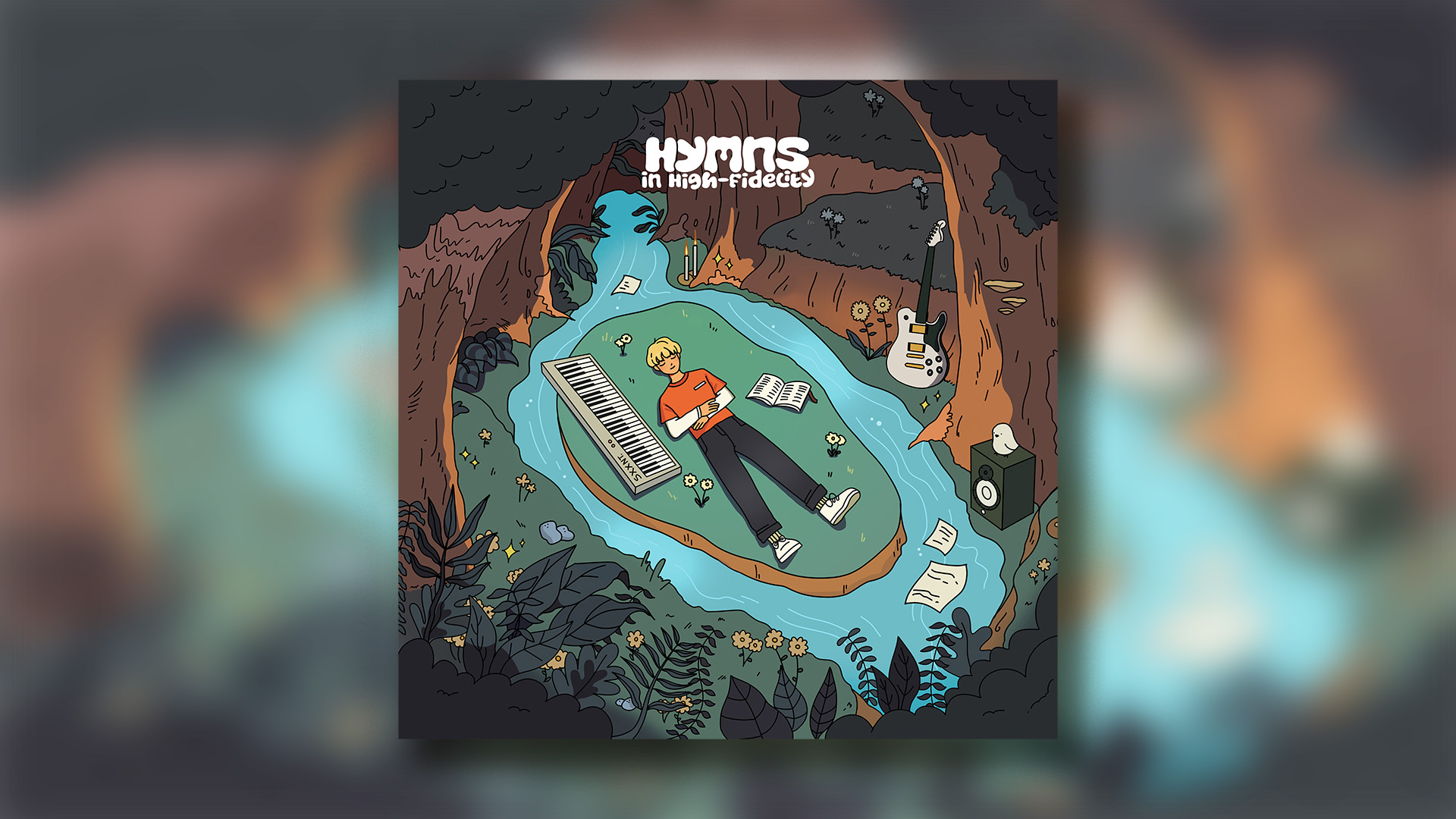 One of the most exciting and original works of Christian music I've heard this year is a 23-minute mixtape called Hymns in High Fidelity, produced by British instrumentalists Stephen Bradley (sxxnt.) and Joe Whettam (Brother Joe). Released as a collection of individual tracks or as one continuous epic piece (the way they intend it to be experienced), Hymns in High Fidelity is an instrumental work that sets classic hymns to contemporary hip-hop beats and lofi/chill sonic textures. The result is a daring, unexpected, groovy, and gorgeous ambience of musical worship.
Featuring everything from bossa nova to birdsong, classical guitar to ethereal electric solos, the music recontextualizes congregational hymns in a hipster coffeeshop aesthetic. There's nothing else quite like this in contemporary Christian music-making.
The hymns referenced in the album are (in order) "Give Me Jesus," "I Surrender All," "There Is a Fountain Filled With Blood," "Nothing but the Blood," "Great Is Thy Faithfulness," and "When I Survey." They flow seamlessly together in an experience that's perfect for your personal headphones as you study or read, or as background music in your church's gathering spaces (listen to the full album on streaming sites or in the embedded video below).
I asked Bradley to share the inspiration for the project, how he got into music, and why he'd love to see instrumental music make a comeback in the church.
---
Tell us a bit about yourself, your faith background, your church, and your journey in music-making. When did your faith and your musical talents first intersect?
I became a Christian in my early 20s, and two main things led to that. Music played a role, specifically Kings Kaleidoscope's hymns EP Asaph's Arrows. The lyrics laid a foundation for me to understand God's grace. So later on, when I picked up the Bible properly for the first time and read through Romans, the Holy Spirit and the Living Word did what they've been doing for thousands of years and totally changed me.
Fast forward, and my family and I are now part of a small church plant in Sheffield, U.K., where I get to lead worship regularly, which is a real joy. In terms of music, I don't actually have any formal education; it was always just an interest and self-led hobby of mine.
My journey into knowing Christ meant that music and faith intersected pretty fast. Part of my first steps as a baby Christian was all about sharing creative, interesting music I found that was anchored to the gospel. My work as sxxnt. began in late 2019 out of a desire to provide contemplative, chilled spaces for worship and instrumental music but in a way that was influenced by hip-hop/beat culture, and particularly the concept of sampling—repurposing melodies and sections of music into new contexts, in this case a gospel context.
What prompted the Hymns in High-Fidelity project and how do you hope listeners receive it?
Joe Whettam ("Brother Joe") and I first connected when he was playing with Rivers & Robots. Early on, we chatted about his interest in Christian musical heritage and the idea of collaborating to rearrange hymns. We liked the idea of making it an instrumental project because it took away the pressure of being for congregational worship and instead made it more of a creative exploration of these hymns' melodies in the genre context of a beat-tape.
For the listeners, we hope this musical context can be used for prayer, contemplation, Bible study, or background music for quiet times. We hope this music helps people feel various aspects of the gospel in a big way and that it soundtracks many sacred moments. It's designed to run seamlessly from start to end, as an immersive musical project you really sit with.
What role should instrumental music have in Christian music?
Classical music holds instrumental compositions in high regard, but it's often the opposite in Christian music. We look to a song's words to define "how Christian it is"—and obviously words are important for theology—but we totally ignore that music is part of a wider context, especially when you're sampling melodies that are already anchored to established theological concepts.
If the importance of contemplative musical spaces is ignored, then we overlook the joy we find as composers and producers in being able to communicate ideas through music alone. Freedom in creative expression is an incredible gift from God and an act of worship within itself.
You've been an influential advocate for indie Christian music artists through The Good Christian Music Blog, playlists, etc. What encourages you about the state of Christian music today?
In many ways, I don't think there's ever been a better time to be a music fan and a Christian—or an indie Christian artist for that matter. More than ever, Christians have a good understanding that there is music meant for congregations and music meant for worship in private spaces too. But the idea that's taken hold over the last decade is that there is music from Christians (and therefore rooted in gospel truths) that's also just to be enjoyed as music. It's encouraging to see that the scene is flourishing and filled with variety.
---